Lego Star Wars Best Sellers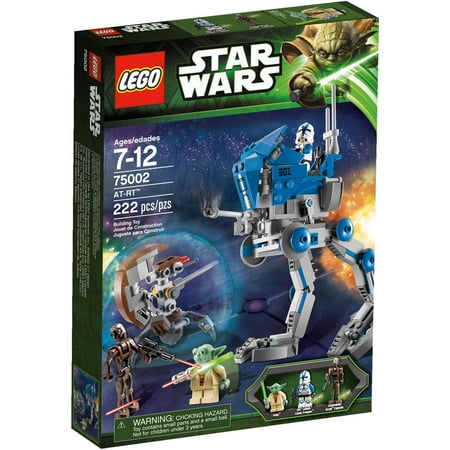 Let the action and games begin with this LEGO Star Wars AT-RT Play Set. With features such as a laser cannon that can swivel and fire, as well as a light saber and blasters, this LEGO Star Wars building set has a number of components that will keep your child entertained. The LEGO Star Wars toys consist of three small figurines, featuring icons such as Yoda and a clone trooper. The figurines of the LEGO Star Wars AT-RT Play Set come with articulated feet and legs that will allow your child to pose them during play. With a variety of weapons and the ability to act as pilot, your child will take full control over this LEGO Star Wars AT-RT Play Set to win the battle. Whether used alone or with similar toys, this LEGO Star Wars building set will encourage your child's creativity and thinking skills.
———————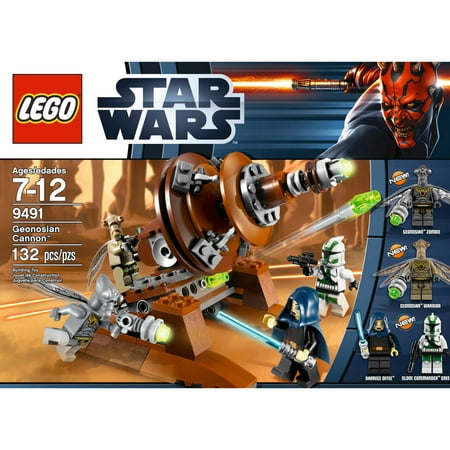 The LEGO Star Wars 9491 Geonosian Cannon kit comes with 132 pieces that include mini figures of Barriss Offee, Clone Commander Gree, a Geonosian warrior and a Geonosian zombie. Weapons such as the Geonosian cannon, lightsaber, flick missiles and blasters also come with this LEGO Star Wars building set. The most important part of this LEGO kit is the cannon, which is manned by the Geonosian warrior. This gray, brown and dark tan bricked canon features a control platform at the rear, which can be tilted up and down. This toy building set is designed based on the LR1K Sonic Cannon shown in the Star Wars Episode II: Attack of the Clones.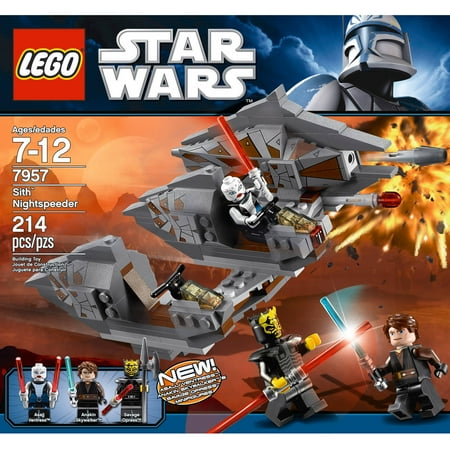 Hop aboard and cruise in stealth mode through the galaxy with the LEGO Star Wars Sith Nightspeeder. Your child can pretend to turn to the Dark Side and become Sith Assassin Asajj Ventress and Savage Opress as they speed toward Anakin Skywalker with their flick-missiles ready. This LEGO Star Wars set features twin pods that can be detached as they close in on the young Jedi warrior. Will Anakin Skywalker be able to fend them off? This set includes three favorite minifigures for the ultimate role playing: Anakin Skywalker, Asajj Ventress and Savage Opress. Four lightsabers and weapons are included for your child's ultimate enjoyment. This 214-piece LEGO building set is suitable for children ages 7-12 years. Now you can let your child decide whether Anakin Skywalker will be able to fend off an attack. With the LEGO Star Wars Sith Nightspeeder building set your child's imagination will be engaged and stimulated into galaxies never explored.
===============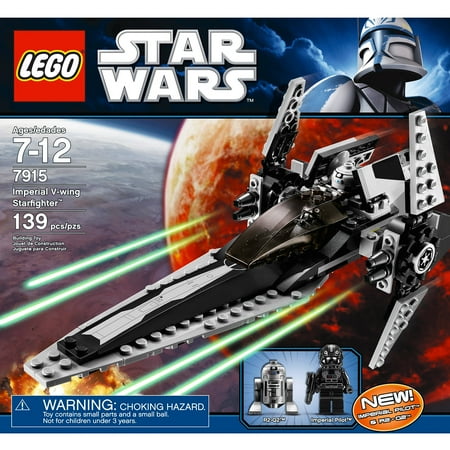 Journey to the period between the collapse of the Old Republic and rise of the Galactic Empire with the LEGO Star Wars Imperial V-wing Starfighter building kit 7915. This small, one-man fighter was essentially a cross between an X-Wing and TIE Fighter, the warplanes that went on to participate in so many classic dogfights. The replica LEGO Star Wars set has tons of moving parts, including hatches that open to reveal a detailed interior. The bricks have a cool black and gray layout, and they snap tightly together with a satisfying "click." Each LEGO building set also features turbo laser cannons that rotate in multiple directions to take on multiple foes. It also includes a realistic-looking holographic transmitter to receive important messages from Emperor Palpatine.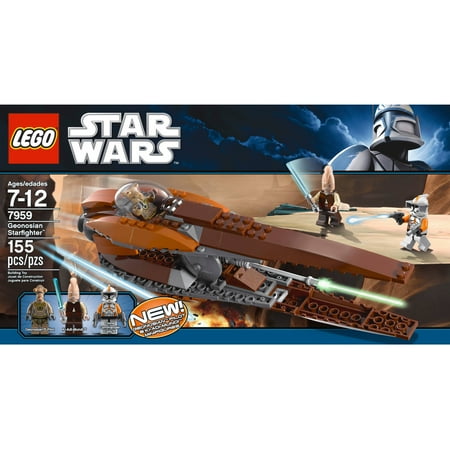 Relive the epic showdown from Episode II with a LEGO Star Wars Geonosian Starfighter set 7959. Only through the power of The Force, and an assist from a slew of clone troopers, can the Jedi hope to overcome a seemingly endless posse of Genosians, battle droids and other miscellaneous baddies. This LEGO Star Wars set includes 155 full-color pieces that let your Jedi Master recreate the battle or go on new Galactic adventures. Even better, kids get the satisfaction of building their own gear with the classic snap-together bricks. The starfighter in this LEGO play set features super-realistic parts, like a bubble canopy that opens and closes, a powerful laser cannon that really rotates and more. There's even a hidden compartment with a proton torpedo, for when the going gets tough. This LEGO Star Wars Geonosian Starfighter is great fun for youngsters ages 7 to 12, no matter what planet they're from.